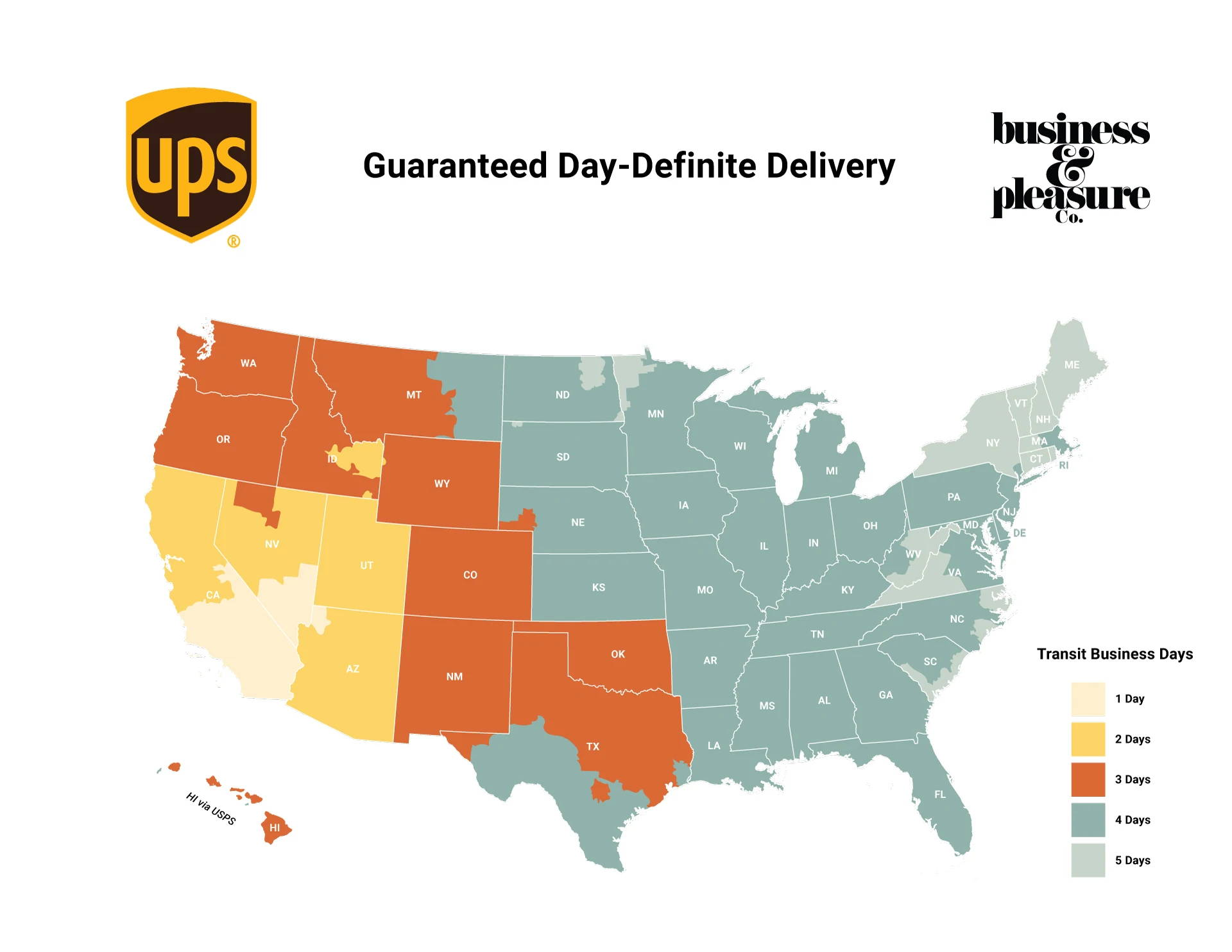 This map is a representation of UPS Ground service, subject to exemptions and delays. Shipping times are not guaranteed, and are a guide only provided by UPS.  

*The above shipping table is based on the order subtotal, before discount codes or promotions are applied.
Note: Please allow 1-2 business days to process and ship orders out. Express orders (UPS 2nd Day & Next Day Air) are prioritized and can take up to 1 day processing time. List rates based on ship origin of Los Angeles, CA. Orders are only processed and shipped on business days, excluding public holidays.
Any free shipping promotions offered are only applicable to items that are shipped inside the mainland United States; shipments to APO Boxes, Hawaii, Alaska, and Puerto Rico are not included and will be charged separately for USPS shipment at the time of purchase. These exclude any shipping upgrades or bulky shipment fees.
PO Boxes can only be used for our smaller product shipments.
The Al Fresco Sun Lounger and Dining Table can only be sent with Economy shipping and are excluded from any expedited shipping options.

Bulky Shipping Charges
Several of our products are rather heavy, and additional fees are charged due to unusual sizes or weights. You'll find a list of all these items, along with a breakdown of their fees, below.
$20 fee for all 35lb Bases

$30 fee for all 55lb Bases (including the Clamshell Base)

$50 fee for the Reclining Pillow Lounger

$50 fee for the Al Fresco Dining Chair

$50 fee for the Al Fresco Side Table

$99 fee for the Modular Pillow Stack

$250 fee for the Al Fresco Sun Lounger and Dining Table
Free shipping promotions do not apply to these products and the fee will be added to the price of the selected delivery method.
The Reclining Pillow Lounger, Al Fresco Dining Chair, Al Fresco Side Table and Modular Pillow Stack are not available to ship with Express Shipping. The Al Fresco Sun Lounger & Al Fresco Dining Table are not able to be shipped with any UPS service or internationally.

International Shipping
Estimated arrival times and free shipping do not apply. The cart will automatically calculate the cost of UPS and DHL international shipping. All import taxes and customs are included in the prices for the UK and other EU nations. Orders from outside the UK, EU and US will have all import taxes and levies computed at checkout. The Al Fresco Dining Table and Sun Lounger are not currently available for international orders.
If you have any other inquiries regarding shipment or delivery, please get in touch with our team.

We do provide order pickup at our Laguna Beach location. To place your order with them, please dial (949) 324-2939.